Speak to an attorney today
We are committed to serving our clients. Give us a call or send us a message so we can know how to help you.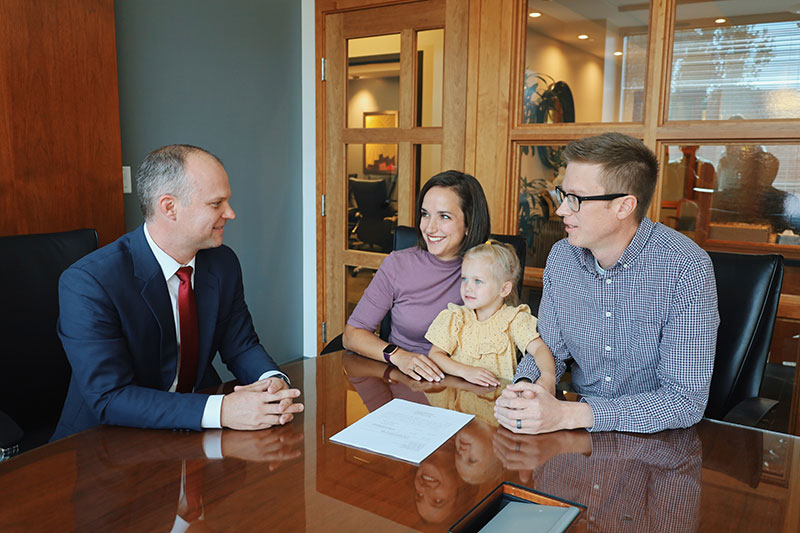 Trusted family law attorneys serving all of Utah.
We've been practicing Family Law for years, with countless successful cases to our name. Our clients can count on our Family Law practice group to manage the Utah court system to achieve a win. When our lawyers are involved in a case, we help our clients successfully resolve matters as quickly and efficiently as possible.
"I was seeking representation in regards to Family Law. My best friends recommend a firm of a close family friend. There I was introduced to Cory Hundley. When having met Cory he listened, put me at ease. Cory is very detail oriented and professional at all times. I always had the confidence he was up to date with my case.
Always more than willing to hear me out with my concerns. Yet he always got to the point and dealt with my case in a timely manner. My overall experience was great. Cory is accurate, knowledgeable, has great time management and very thorough with his work. If you are seeking representation I would highly recommend Cory Hundley. He is an exceptional attorney!"
– Karen O.
The process of divorce can be a stressful and emotionally charged experience involving the most important parts of your life; your children, your home, and your financial well-being. The emotions and financial strain can quickly become overwhelming. The decisions you make during this time will affect almost every aspect of your life for years to come.
There is nothing more important than your children. When their future is on the line, their well-being should be the top priority. The decisions you make now can affect you and your children for years to come, so it is important to get it right the first time.
Each parent has a responsibility to support their child. When a relationship ends, the noncustodial parent still has an obligation to pay child support to the custodial parent. Under Utah Law, the amount paid depends on the number of nights each parent has with the children, each parent's gross monthly income, and the child support arrangement determined as part of the divorce.
Mediation is an essential and important part of most domestic legal disputes. No matter how contentious and difficult your case is, it will most likely be resolved at least partially by reaching an agreement with the other party. It's also best for everyone involved if you can work out a mutual agreement that everyone can live with. We work carefully with both parties to avoid litigation when possible and reach a collaborative agreement without giving up what is most important to you.
When you file for guardianship over a person, you are creating a legal relationship between you and another person so that you can make legal and medical decisions on their behalf. You can file for guardianship over a child who is not your biological child or you can petition to be a guardian over an adult who is not capable of making their own decisions.
Adopting a child can be a long process with many complicated laws and hoops to jump through. Whether you want to adopt a child from a birth mother, foster care, or internationally, Utah law has specific requirements that are difficult to navigate without the help of Hundley & Harrison and our Salt Lake City adoption attorneys.
​Many of our clients are anxious and worried about how they will support themselves without the income of their former spouse. It can be overwhelming maintaining expenses for two households on one income. If you were a stay-at-home parent for an extended period and have no earning potential, you are more likely to get alimony, or spousal support, than if you have a full-time job earning a good salary. The goal of the Utah courts is to ensure that the spouse earning lower income doesn't fall into poverty because he or she is unable to earn a living or maintain a standard of living consistent with what they had during the marriage.
A prenuptial agreement, or prenup for short, is a legal agreement between a couple that is made before marriage to ensure that any assets acquired before, or sometimes during, the marriage are protected. It can also help you make important decisions regarding asset division, future alimony payments, and more.
Paternity means fatherhood. A paternity action is a lawsuit to establish who is the true father of a child. While a child born to a married couple is presumed to be the child of the wife's husband, a child born outside a marriage has no presumed father. In that case, Utah paternity law allows a child's mother, a child's father, or the State of Utah to file an action to establish paternity.
Victims of domestic violence often don't know where to turn for help. Parents dealing with domestic abuse need to know they can receive protection for themselves and their children. Our Salt Lake City attorneys at Hundley & Harrison are here to help you and your family.
Reach out to us for a private, complimentary consultation.
Client Testimonial
"Cory, we want to thank you for your help, hard work, consistency, and dedication to our case. You are an amazing attorney. Win, lose or draw you have presented our evidence, our story, and our struggle better than we could have hoped for or even imagined. I am at a loss for words that can adequately express how grateful we are. You are a gifted attorney. I had been with two other firms before bringing my case to you. It took a lot to leave my last attorney due to all the time and money I had invested in my case.
Update: Trial is now finally over! Cory connected the dots, the time lines, and the pivotal moments that mattered to give the Judge a clear picture and to help make a ruling in the best interests of the children.
Cory was invested and I will never forget what he has done for our family. I now have a chance to raise my children after many years of dealing with parental alienation, legal costs, and so much lost time with my children. If a father winning full custody in the state of Utah doesn't speak volumes about his attorney's ability, I don't know what will."
– Tyler Jolley