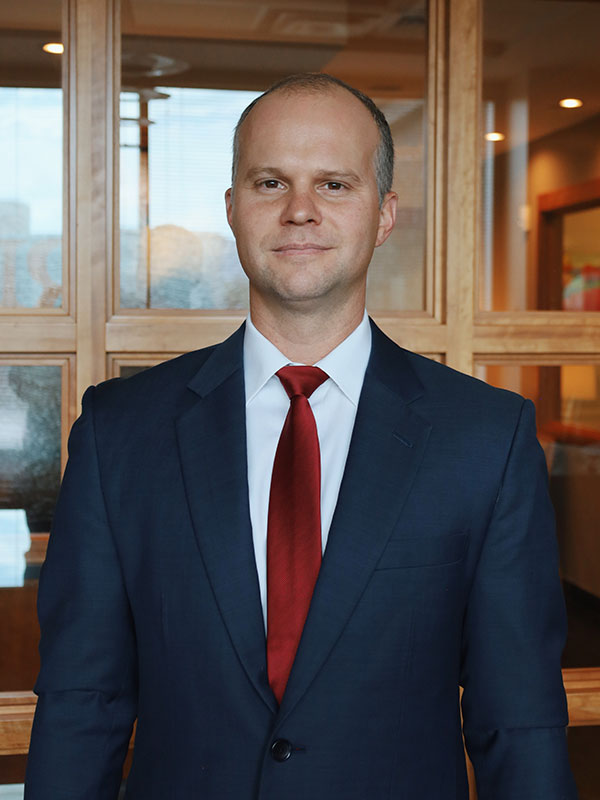 Cory Hundley is a partner at Hundley & Harrison and divides his practice equally between family law and personal injury. Cory is an experienced negotiator and trial lawyer. He strives to resolve each case quickly and amicably if possible. He has been effective at helping many clients reach amicable resolutions even in the most difficult legal disputes. However, when settlement isn't a possibility, Cory is not afraid to fight for his clients in the courtroom.
Cory has a reputation for being detail oriented and being able to communicate complex legal issues in simple terms. His financial background gives him exceptional insight into complex finance and asset issues.
When he is not working, Cory loves all things outdoors. He enjoys hiking, backpacking, mountain biking, camping, snowmobiling and snowboarding. He also enjoys scuba diving and running triathlons.
Cory is a member of the Utah Bar Family Law Section, Utah Bar Litigation Section, Utah Association for Justice, and the American Inns of Court.
Prior to founding Hundley & Harrison, Cory was a junior partner at a mid-sized regional law firm in Salt Lake City. Prior to becoming licensed as an attorney, Cory clerked for Judge Steven Hansen at the Fourth Judicial District Court of Utah and the Utah Attorney General in the criminal appeals division. He brings diverse experience and training to his practice.
During his time in law school Cory's list of accomplishments include the following: ABA National Appellate Advocacy Competition: Regional Champion, National First Amendment Moot Court Competition Traveling Team, Trial Advocacy Board of Directors: Training Director, National Civil/Criminal Trial Teams: Traveling Coach, J. Reuben Clark 1L Moot Court Competition: Best Oralist, Rex E. Lee Moot Court Competition: Semi-Finalist, Woody Deem Trial Advocacy Competition: Semi-Finalist, Linda Anderson Trial Advocacy Competition: Semi-Finalist
Cory has been practicing law since he graduated from Brigham Young University, J. Reuben Clark School of Law in 2013. Prior to attending law school, Cory graduated from Utah State University with a bachelor's degree with dual majors in finance and economics.
He has substantial experience with the following legal issues:
Family Law: contested divorce, high asset divorce, child custody, contested adoptions, step-parent adoptions, juvenile court issues, termination of parental rights, post decree modification and enforcement issues, guardianship and conservatorship issues, appeals, domestic violence and protective orders, annulment, legal separation, common law marriage, asset and property division, division of business interests.
Injury: auto injury, pedestrian and cyclist injury, uninsured/underinsured motorists, medical malpractice, commercial trucking injuries, motorcycle injuries, and slip-and-fall injury, neck and back injuries, traumatic brain injuries, spine injuries, wrongful death, and police brutality/excessive force. He has helped countless clients navigate all aspects of the legal process including pre-litigation negotiation, mediation, complex litigation, and when necessary, taking cases to trial.